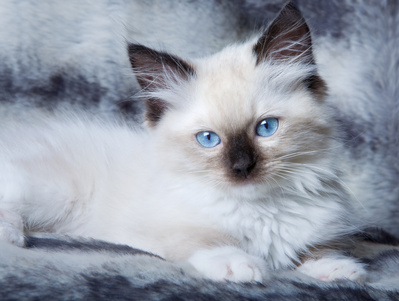 Cheap Ragdoll kittens for Sale-

How many times have you seen advertising with these words as the headline?
Please Buy your Ragdoll from a Reputable Breeder
I have just spent a short time viewing buy/sell websites and found several advertisements saying "Cheap Pedigree Ragdolls available now", only £250/£300. Sometimes as young as 8 weeks of age. Sounds too good to be true —well it usually isl!
I will politely describe the difference between these kittens and kittens from reputable breeders like myself. Most people perceive kittens bred by reputable breeders to cost them more money. However this is most definitely not the case.
These cheap kittens are more often than not, sold under various headings- "without papers", "both parents are registered but kittens are only sold as pets, so not selling with papers... These headings are designed to mislead and confuse you, the buyer, into believing that you are buying a full pedigree cat. Which in reality is not registered nor can it be registered with any of the following organizations' - GCCF, TICA and ACFA.
Therefore, what you are buying is a cat that may look like a Ragdoll cat however, I suppose you could say you are buying is a copy/fake/counterfeit.
Usually the seller of these "excellent" value kittens had previously purchased the kittens parent(s) as pet quality Ragdolls and then went on to use them for making a bit of extra cash, without any consideration for the well being of the breed. It is very likely that these cats were probably originally sold as pets because they didn't conform to the breed standard for breeding purposes.
In these circumstances it is common practice for the breeder to have drawn up a homing contract which would have required that the cats be neutered, once this procedure has been carried out, a copy of the neutering certificate to be returned to the breeder. At which time the registration documents and pedigree would have been handed over to the new owner. If the new owner decided not to keep to the agreement, hence they do not have the appropriate paperwork to issue the pedigree or registration documents.
Do you want to buy a kitten from someone like that?
Put simply these breeders do not have the best interest of the cats nor the kitten they are offering to sell you at heart, much less the interest of the Ragdoll breed as a whole
There are very Important basic treatments/socialization that all kittens should expect to receive before going to their new home.
Are the kittens vaccinated?
Vaccination protects your cat against various diseases which can cause pain, distress and are often fatal. The primary vaccination course for cats varies with the type of vaccine used The first vaccine can sometimes be given as young as eight weeks of age, with the second usually given three to four weeks later. Kittens should be vaccinated before they mix with other animals. It is essential for their normal development that they are allowed to socialise with other animals while they are very young.
Which diseases do vaccines protect against?
Cat flu,
Feline chlamydia,
infectious enteritis
The kittens should have received at least two visits with health checks at the vets.
All Melys Ragdolls are neutered and micro chipped before homing; received flea, worm treatments, this way you receive the registration papers straight away. You also receive at least four weeks free insurance.
A pedigree kitten should be at least 13 weeks old before moving to its new home, if a so called pedigree kitten is younger than this there could be problems ahead, there will certainly be vet bills to be paid. At the very least vaccinations and health checks this can cost an average of £60 (conservative estimate) Likely to be flea and worm treatments on top of this, not to mention neutering costs which can cost anywhere up to £75. Suddenly the costs start building up, and you haven't even got yourself a genuine pedigree kitten.
Are the kittens parents tested for any of the known health defects - HCM?
A registered breeder will not be offended if you ask to see the test certificate.
ALWAYS CHECK OUT WHO YOU BUY FROM, WHAT THE CONDITIONS ARE LIKE! Remember if you don't like what you see WALK AWAY. Some unscrupulous breeders prey on people feeling empathy for the kitten and purchasing to •save it-, however this simply allows these kind of conditions to continue rather than prevent this kind of behaviour continuing.
Don't be afraid to ask questions- How many years have you had cats. Can you meet the mum etc? All reputable breeders abide by the recommendations of the TBRCC/GCCF breeder scheme etc., if you are in doubt about ANY breeder contact them, they will be happy to provide you with guidance.
When you add up the cost of the cheap ragdoll kitten against one from Melys Ragdolls or any other reputable breeder there isn't a big difference when you look at the figures below.
Our Kittens are priced in line with TBRCC/GCCF recommendations when you consider a cheap unregistered (fake) ragdoll kitten can cost between £250-£350; plus the additional costs you will have to pay within the early weeks, compared to a registered breeders price of £450 - £600 which includes all the relevant treatment's the kitten would require, plus the confidence of knowing they come from a fully tested/ registered parentage alongside four weeks free insurance. Suddenly these cheap kittens are not so reasonable after all.
If you are in doubt about whether the kittens come from a cat that is allowed to be bred from you could always ring the GCCF 01278 427 575 to check that the mother is on the ACTIVE REGISTER
If you are viewing kittens which are advertised as having Champion parents - ask to see the Challenge Certificates - ensure you check the names and dates on the certificates.
Please note- this advise is simply to assist prospective kitten purchasers from throwing their hard earned money away, and not receiving the pedigree kitten they deserve.